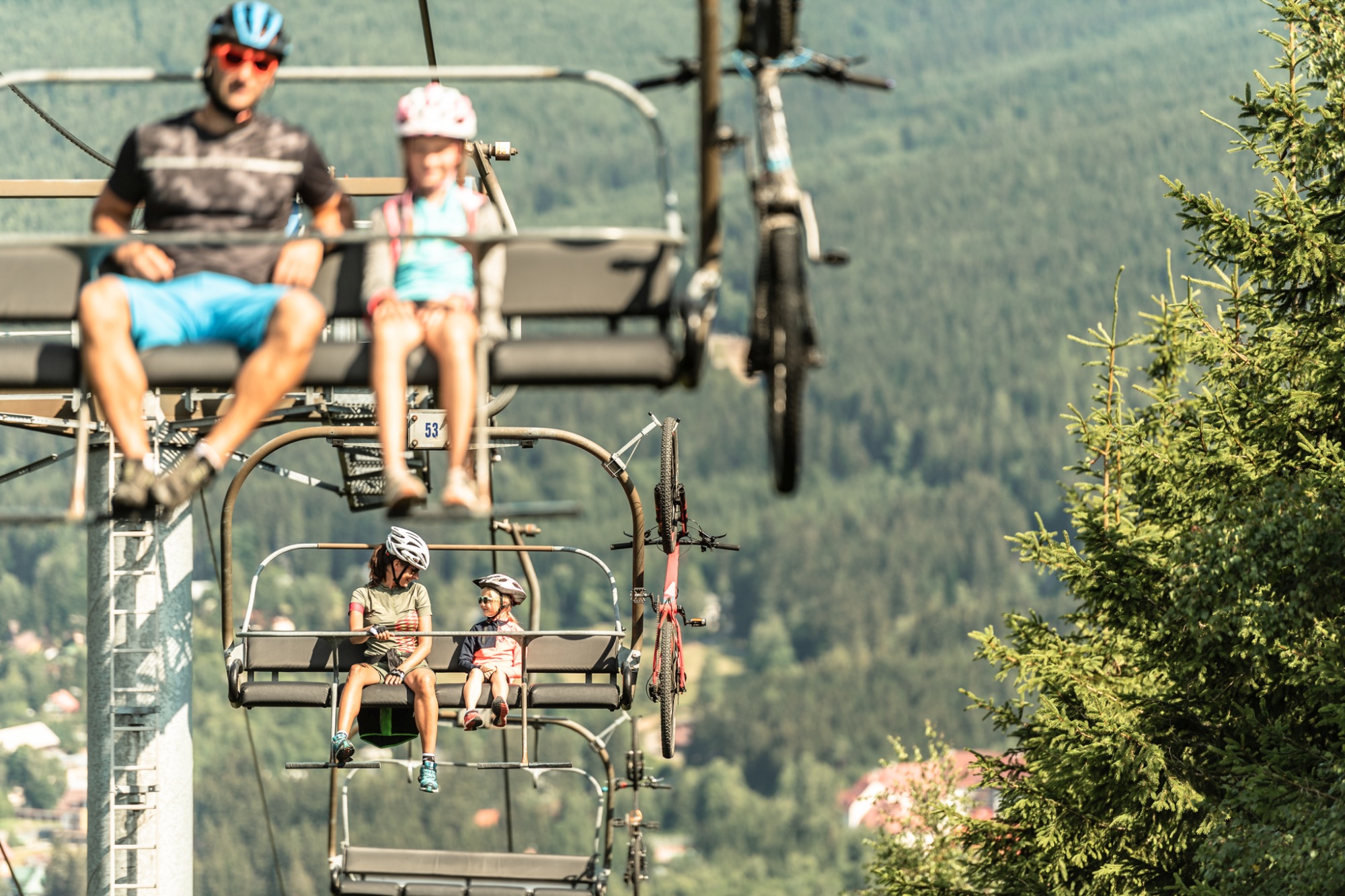 The cable car to the 1020-metre-high mountain Čertova hora operates daily between 9 am and 5 pm. It runs every full hour and every half hour. Each bench seats two people and we also carry bicycles and prams. The ride to the top takes only 9 minutes from the valley station. For fit athletes, the same route is a proper hike of at least an hour. During the ride you will pass in the immediate vicinity of the mammoth ski jump. In addition to the view of Harrachov, there are also unique views of the Ještěd, the Jizera Mountains and the western Giant Mountains.
At the top station of the cable car, you and your children will find not only a beautiful view, but also many interesting corners and short walks, as well as a map with all-day hikes along the ridges of the Krkonoše Mountains. Within 500 m of the cable car you can visit two viewpoints and the children can have fun in the inflatable maze, while you can have a snack at the local snack bar. Our heart-shaped photo booth and the wooden devil statue are also very popular.
You can spend the time waiting for the cable car at the valley station in the Stone restaurant. From its terrace you can comfortably watch your little ones romping around in our amusement park. Anyone who buys a ticket for the cable car also receives a free ticket for the large trampoline, the Lumpik bouncy castle or gymnastic balls attached to the ground. All three attractions, together with the wooden castle and the slackline, are among the highlights in the children's park and are located at the lower terminus of the cable car.
Circular hikes at Čertova hora
Hiking routes at Čertova hora
CABLE CAR
This email address is being protected from spambots. You need JavaScript enabled to view it.
tel: +420 481 529 353
www.skiareal.com